In the spring and summer, Hotel Restaurant Cocul can be reached by car and it has its own large parking area with a play area for young children. This is also a great starting point for wonderful walks in the woods and in nature, where you can find mushrooms, wild blueberries and raspberries, radicchio and mountain asparagus, and a whole plethora of mountain flowers. There are also "malghe" (Alpine farmsteads), reachable by car, motorbike, bicycle, or on foot, where you can savour fresh and genuine dairy products.
At Hotel Restaurant Cocul you can celebrate birthday and graduation parties, baptism ceremonies, First Communions and weddings. We guarantee high-class catering and accommodation for all such events. Feel free to contact us for an estimate.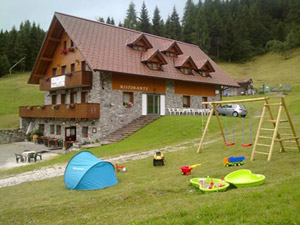 Keen cyclists can take on two of the legendary ascents of the Giro d'Italia; or go on tours with a guide and national mountain-biking instructor and ride along the many dirt roads, mule tracks and paths created in the early 20th century for military operations and for use and maintenance of the woodland heritage.
In the summer in Carnia, there are many sporting, cultural, folk and wine & food events that give a real insight into the local area and its history and traditions.