Restaurant Cocul is annexed to the hotel and also overlooks the ski slopes. It can seat 100 people. It is the perfect place to enjoy a sit-down meal (rather than a quick sandwich at our outdoor kiosk) and savour one of our specialities of Carnia available "à la carte". The restaurant serves dinner for half-board guests at the hotel.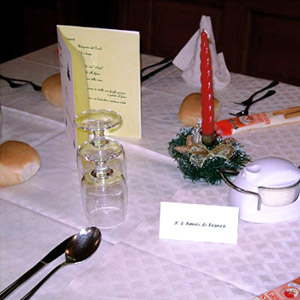 Our menus include typical specialities of Carnia made with genuine and delicious ingredients, like the cjarsons, barley risotto with mountain radicchio, polenta and frico (a dish based on melted cheese), game, mushrooms, local cheeses and cold cuts, all served with excellent wines of the Friuli region.
We also offer classic Italian dishes to please the palates of guests who prefer more traditional food, and those of children who we hold close to our heart. At Restaurant Cocul, you can make a reservation to celebrate an important event in style like a birthday, anniversary or get-together with friends; or to spend New Year's Eve with us, with a fantastic dinner involving several courses.
Do not hesitate to call us and make a reservation: we are more than happy to give you and your guests a true taste of the typical flavours of Carnia.