Fancy a sausage and onion sandwich and a welcome beer between skiing sessions? Try the kiosk!
Or do you prefer spit-roasted pork or a hot dog? Try the kiosk!
And do you like plenty of mustard, ketchup or mayonnaise, or all three together? Try the kiosk!
Prefer not to drink beer because it fills you up and you need to ski and then drive? Well, the kiosk also serves soft drinks, water and more!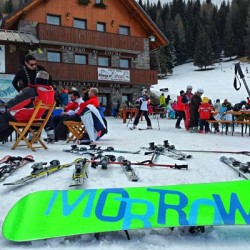 You can ski to the kiosk at the intersection between slopes 3 and 4 – ski slopes suitable also for children new to the sport – and admire a panoramic view that you will not forget in a hurry. All hot drinks are served at the hotel bar opposite the kiosk and tables.
Here, you can relax awhile and re-energise yourself ready for another skiing session!
We look forward to seeing you at the kiosk.